Active & Passive Physical Therapy
Dr. Lee use both active and passive therapy to help treat your condition. Not all patients need both active and passive therapy, so the doctors will tailor your treatment plan to fit your needs.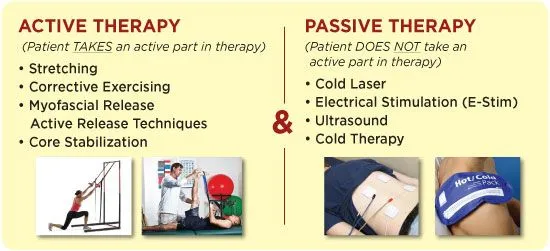 Active Therapies
We utilize multiple active therapies in the office and instruct patients on exercises to perform at home. Some active therapy examples include:
Active Release Technique/Stretching
Core Muscle Stabilization: One of the most important factors in injury prevention and recovery
Corrective Exercise: Series of exercises performed in and out of office, specific to individual needs of each patient
Corrective Pattern Sequence
Corrective exercises allow the doctors to place the patients in proper movement patterns to correct faulty movement issues. These exercises are vital in not only aiding the rehabilitation process, but keeping the injury from reoccurring. Corrective exercises are one of the important keys to functional longevity without further injuries or chronic pain.
Mobility – reestablishing functional range of motion using: Active Release Technique, Graston Therapy, Chiropractic Adjustments, static, dynamic, active isolated, and proprioceptive neuromuscular facilitation stretching; foam rolling, lacrosse ball work; and range of motion movements
Static Stability – using the joint/muscle/movement pattern that stresses the area needing correction by moving other joints and requiring it to remain static
Dynamic Stability – moving the joint/muscle/movement patterns through a range of motion requiring dynamic motor control
Full Re-patterning of Movement –moving correctly through a full range of motion
Strength –loading the movement pattern and developing force output gains
Power – applying maximum force quickly
Performance –sport/activity-specific training
Goals of Active Therapy
Prevent further injury
Improve balance
Strengthen core
Increase muscle functions and endurance
Improve functional movement so you move optimally during sports/daily activities